With all the help Shane and Tricia have received, they want nothing more than to give back some of what they have received. A portion of the proceeds from each book that is sold from the Official Freedom's Rein Merchandise Shop will benefit the following charities: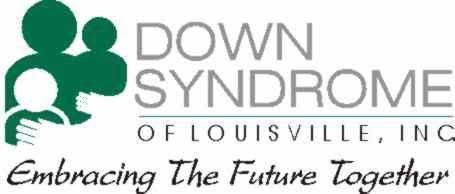 Down Syndrome of Louisville is an admirable organization whose mission is to "improve the lives of persons with Down syndrome, and their families, by providing support, information, education, and advocating for their rights and concerns; TO ENABLE THE INDIVIDUAL TO REACH THEIR FULL POTENTIAL."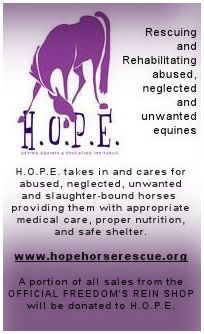 H.O.P.E. Horse Rescue is a fantastic organization that promotes the well being of horses. With ample fundraisers, horse adoption services, and abuse prevention services, H.O.P.E. Horse Rescue is a terrific organization with quite a noble cause.
ReRun.org
is a phenomenal organization run by a group of devoted volunteers who want nothing more than to help horses. You can find ReRun's volunteers at a variety of events ranging from horse sales to fundraisers. This is truly a superlative organization that deserves as much recognition as it can get!